2018 Scott Richardson
One day out of the blue, my buddy Craig (@OneofSevenProject) called me up and asked if I'd be interested in heading up to Alaska to do a bikepacking trip. The only correct answer to that question is always yes. Having done some bike touring in Alaska previously (in 2000 a friend and I pedaled from Prudhoe Bay, AK south to Southern California over about 5 months), I was eager to get back up north and explore more dirt roads and trails that I had missed on my previous trip.
A couple months later, we both agreed that we just needed to pull the trigger to make this happen. We both jumped online, looked at flights and debated dates—and before we knew it tickets were purchased. He was flying from Boston, and we would rendezvous in Portland, OR in the airport before taking separate flights about 40 minutes apart up to Anchorage. Game on.
We flew with our bikes to Anchorage and then pedaled north from Valdez to Fairbanks. It was a trip full of tough miles, lots of HAB (hike-a-bike), one curious brown bear inside our comfort circle, lots of rain, a couple head colds, and endless amazing views.
We had heard about the possibility of bikepacking the Alaskan Pipeline access roads, and having both done previous bike touring across Alaska, we decided we needed to check it out. The pipeline is a monster, and requires a ROW, which is a permit to access this sliver of secured, private property that runs across the state of Alaska. Heavy rain and countless steep grades kept our average speed low as we settled into our first few days on the bikes. Not knowing if there would be bear or moose around the corner while riding through dense vegetation also kept the excitement level high.
The geography of Alaska (and starting down south on the coast) meant we faced the majority of our climbing in the first days of the trip. The same mountains we would climb over were also acting as a barrier for Pacific storms, keeping us wet and muddy until we made it over Thompson Pass in the Chugach Mountains. Better weather and flatter roads were the payoff as we continued north.
We attempted to follow the ROW as much as possible, but between the over-zealous beavers, endless HABs, and the unknown conditions of remote dirt roads, our timeline to make it to Fairbanks and catch our flights home in a little less than 2 weeks meant we had to put in some highway miles.
The Richardson Highway took us north into the vast Alaskan interior. We had views of the Wrangell–St. Elias mountains to the east, and then the Alaska Range as we worked our way north to the turnoff for the Denali Highway.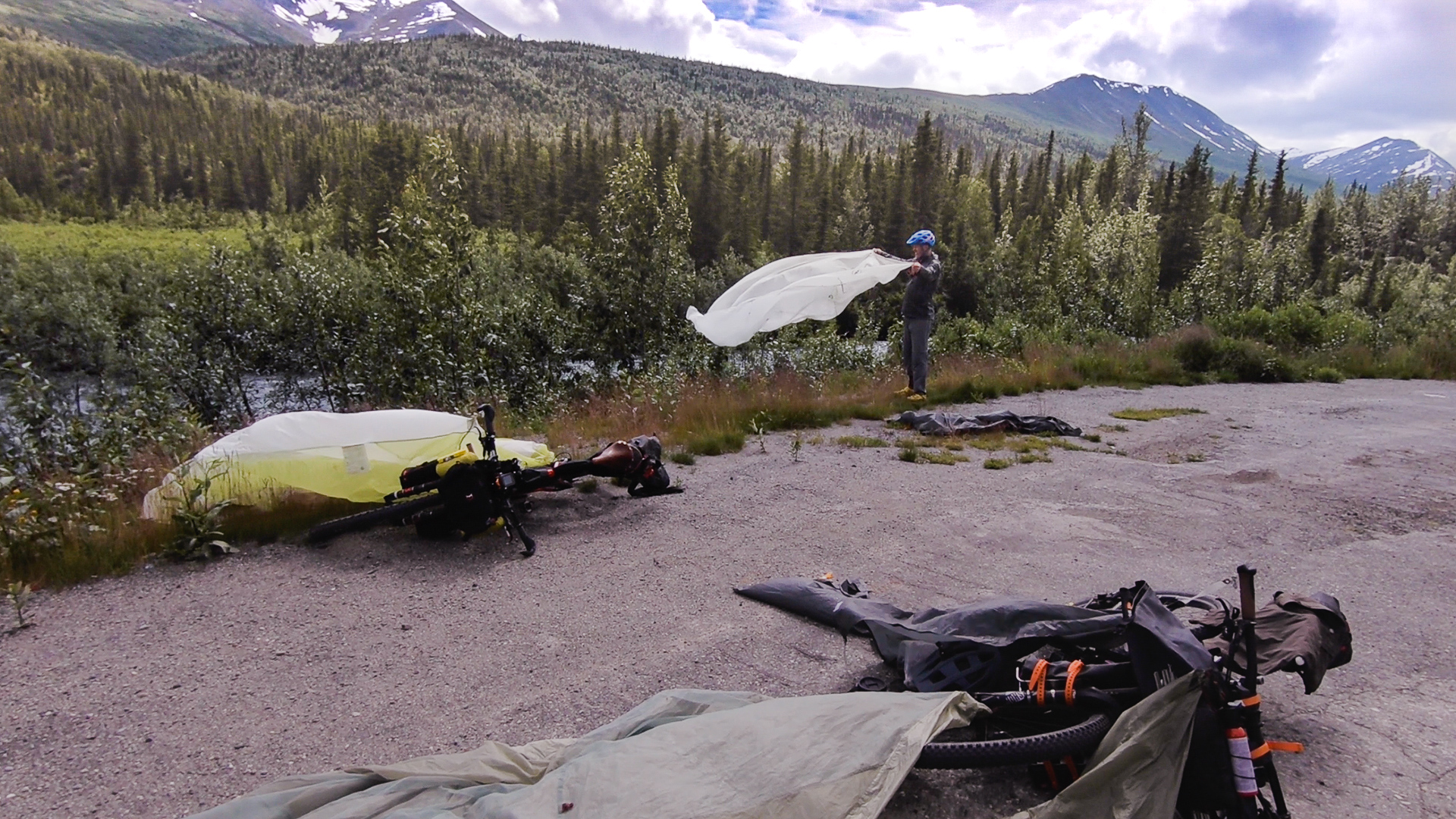 The highlight of our trip had to be the Denali Highway. Both of us were blown away by the scenery along what is said to be one of the top 3 highways in North America. Forward progress was constantly interrupted by one view after another as the highway switched between sweeping pavement and dirt. It's hard to put into words the scale and beauty of this route as it cuts east–west across Alaska, ending at the Parks Highway, just south of the entrance to Denali National Park.
We decided to take the time to stop in the park and play tourist for a couple days. Despite the rain the first day that kept us in our tents, sleeping well into the late morning, Denali came out in grand fashion. It was spectacular and a well-spent 2 days of rest and recovering off the bikes.
Inclement weather, physical discomfort, and challenging terrain are part of any big trip into the mountains, but despite these, bikepacking in the Great North was incredible. We both agreed it was a success and we were ready to keep pedaling rather than get on planes to return home, as our bodies and minds were just settling into the daily ritual of moving ourselves long distances through the mountains. Unfortunately, the 'real world' was calling us back.
Friends for 15 years, we agree that vacations, and even life, aren't about sitting in a resort or behind a desk, but about getting outside one's comfort zone and sleeping in the dirt. We also realize how lucky we both are to have a buddy who is down for the big ideas and crazy outdoor adventures we dream up while stuck in the daily grind. Cheers to all the crazy friends and plus-ones out there who are down for adventure at the drop of a dime!
https://inclinedesigngroup.com/wp-content/uploads/2019/09/IDG-IG-landscape-1920x1080-0012.jpg
1080
1920
Scott Richardson
https://inclinedesigngroup.com/wp-content/uploads/2023/01/InclineDesignGroup-logo-2301.png
Scott Richardson
2018-09-19 23:42:22
2019-09-24 00:07:21
Bikepacking Alaska